Archive for the 'The London Season' Category
London Season
The Coronation Year
Queen Charlotte's Ball
244th anniversary and pre ball 2023
28th August – 2nd September
In 2023, Queen Charlotte's Ball supports HH Prince Mohsin Ali Khan's World Peace and Prosperity Foundation. (HH was a dedicated and much missed Patron of the London Season). We will be supporting bereaved children of service men and women killed in action overseas through 'Scotties Little Soldiers'
Patrons of the London Season
Their Graces the Duke and Duchess of Somerset
Their Graces the Duke and Duchess of St Albans
The Honourable Lady Roche MBE
Sir David Roche Bt.
His Majesty King Charles' York Herald
Colonel Kenneth Andrew Kraft (USA Retd)
Mrs Camilla Cherrington(Harrods)
Mr Rafe Heydell-Mankoo
Chairman: Mrs David Hallam-Peel
Vice-chair: Mrs Jonathan Woodall
Debutante Liaison Director:
Miss Jessica Barthaud
The London Season (est. 1780) is a voluntary organisation supporting children's charities. It is entirely non profit making.
The chairman and vice chairman were appointed as former fourth generation debutantes to become voluntary custodians from the year 2000. Miss Barthaud is a former debutante.
Junior Ambassadors 2022/23:
Eleanor Hargrove, Katherine Benham, Maxim Cheatle
Junior Committee
Emily Wilson, Oliver Jenkins, Marcus Fforde, Clara Springman,
Isabella Aitchison, Jean Kallenburg, Hugo Alexander
The PRE BALL
28th August Arrive Edinburgh
29th August
8.30 – 10.30 a.m.- Early morning private tour of the fabulous Holyrood Palace, former home of Mary, Queen of Scots. Please arrive promptly at the Palace entrance. Dress code smart casual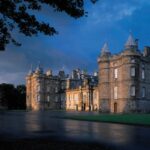 6 p.m. – 11.30 p.m.-THE ROYAL YACHT BRITANNIA, Edinburgh
A private exclusive dinner customised by the Royal Yacht Britannia to recreate the Coronation Dinner for His Majesty King Charles.
Strictly White Tie/long gowns; Decorations will be worn
Guests will receive a personalised invitation card, designed for the London Season. Each card has a stunning gold foil line and is inscribed with Britannia's crest.
On the evening guests will be transported from the city of Edinburgh to the yacht
A red carpet welcome awaits as guests are piped on board via the Royal Brow, an entrance previously exclusively reserved for The Queen and the Royal Family.
A captivating behind-the-ropes tour, an insight into how the Royal Family and crew lived and worked on board.
A stunning ice carving surrounded by caviar, blinis and sour cream provides a stunning centrepiece for the State Drawing Room, for guests to enjoy during a glamorous Champagne reception.
The Britannia pianist will entertain guests during the reception on the late Queen Elizabeth's original grand piano. The piano has been played by notable guests including Sir Noël Coward, Princess Margaret and Princess Diana.
Menu Cards, Place Cards and Table Plan, all bearing Britannia's crest and personalised for our event to take as a personal souvenir of the evening.
Silver candelabra, together with beautiful floral arrangements will adorn the dining tables in the same format as for royal occasions..
Each guest will be given a Britannia gift discreetly embossed or engraved with Britannia's crest.
Gastronomic Delight banquet created by Britannia's Executive Chef with accompanying fine wines
A classical string or light jazz trio to add ambience during our banquet in the State Dining Room where the late Queen Elizabeth entertained royalty and the world's most famous leaders
Enjoy standing on the famous Verandah Deck while a spectacular pyrotechnics display lights up the sky.
The perfect finale to the evening is to watch from the Shelter Deck the incredibly nostalgic military band Beat Retreat along the quayside. After Dinner Speaker – Britannia's former royal Commodore will talk about his fascinating life on board Britannia with the royal family.Iinclusive of transport to and from Edinburgh city. Accommodation is not included.
30th August: return to London. Please note travel can be made by direct train to London or short flight to London City Airport
30th August
7 p.m. Private cocktail party – Harrods (Bulgari and Harrods)
Exclusive champagne and canape evening with guest speaker in the luxurious private VIP suites -these are not accessed by the public. Dress code: formal suits/cocktail dresses
31st August, day free for dress fittings
7 p.m. – 10.30 p.m. The Winston Churchill War Rooms
A nostalgic and amazing evening in this incredible museum looking back on the years of true Anglo-American friendship through the unforgettable American support in the second world war.
We begin with a fascinating tour of Winston Churchill's strategic centre of operations, continue with a Pol Roger champagne reception, followed by a five course gourmet banquet with accompanying fine wines.The musical accompaniment will be the romantic and emotional songs sung throughout the second world war. Our after dinner speaker will be an eminent historian who will bring alive the atmosphere of the era – Dress code-Black tie
1st September, Day free for dress fittings
4 p.m champagne tea party and debutante fashion show,
The glamorous and historic British landmark Café Royal. Dress code: Formal suits, tea dresses. It is a customary tradition for ladies to wear hats or fascinators.
Steeped in history ever-so-glamorous, the Hotel Café Royal is, simply put, a London legend.
Established in 1865 by Frenchman Daniel Nicholas Thévenon (who later anglicized his given name to Nicols) and his wife Celestine, Café Royal immediately became one of London's finest dining rooms, the epicentre for international café society. Its location, in Piccadilly Circus, literally put it at the nexus of Londinium, as the metropolis was originally known. Renowned for its extraordinary and excellent wine cellar, Café Royal gained the reputation as the place where the smart set downed its Château d'Yquem and Château Lafite. After it was purchased by the current owner, The Set (which has properties in Amsterdam and in Paris) in 2009, it was shuttered for nigh on to three years, while it was artfully renovated and historically restored to its former grandeur and glory. When the curtain was lifted and the ribbon cut, its simply jaw-dropping splendour was unveiled. Arguably the jewel in the crown of this stunning hotel is the famed Oscar Wilde Bar, formerly the Grill Room.
It was also here in this staggeringly spectacular and over-the-top chamber that the Duke of Windsor courted and canoodled with Wallis Simpson; Aubrey Beardsley debated with Whistler; David Bowie retired Ziggy Stardust (and quite a merrymaking gala that was, dubbed by its host as "The Last Supper"); and Mick Jagger, the Beatles, and Elizabeth Taylor pirouetted 'til the wee hours. History is infused in these walls, and if only they could talk.
2nd September Queen Charlotte's Ball, One Whitehall Place, part of the former Palace of Whitehall with its famous antiquarian library and stunning white marble staircase and glittering chandeliers
---
---
---
---
---
---
---
---
---
---