London Season
The Coronation Year
Queen Charlotte's Ball
244th anniversary and pre ball 2023
28th August – 2nd September
In 2023, Queen Charlotte's Ball supports HH Prince Mohsin Ali Khan's World Peace and Prosperity Foundation. (HH was a dedicated and much missed Patron of the London Season). We will be supporting  bereaved children of service men and women killed in action overseas through 'Scotties Little Soldiers'
Patrons of the London Season
Their Graces the Duke and Duchess of Somerset
Their Graces the Duke and Duchess of St Albans
The Honourable Lady Roche MBE
Sir David Roche Bt.
His Majesty King Charles' York Herald
Colonel Kenneth Andrew Kraft (USA Retd)
Mrs Camilla Cherrington(Harrods)
Mr Rafe Heydell-Mankoo
Chairman: Mrs David Hallam-Peel
Vice-chair: Mrs Jonathan Woodall
Debutante Liaison Director:
Miss Jessica Barthaud
The London Season (est. 1780) is a voluntary organisation supporting children's charities. It is entirely non profit making.
The chairman and vice chairman were appointed as former fourth generation debutantes to become voluntary custodians  from the year 2000. Miss Barthaud is a former debutante.
Junior Ambassadors 2022/23:
Eleanor Hargrove, Katherine Benham, Maxim Cheatle
Junior Committee
 Emily Wilson, Oliver Jenkins, Marcus Fforde, Clara Springman,
Isabella Aitchison,  Jean Kallenburg, Hugo Alexander
The PRE BALL
28th August
Our patron Colonel Kraft hosted  an early morning private tour of  the fabulous Holyrood Palace, former home of Mary, Queen of Scots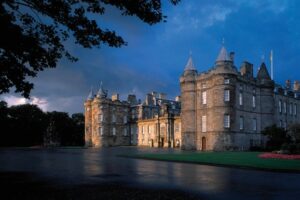 In the evening we enjoyed an amazing white tie  banquet and champagne and caviar reception aboard THE ROYAL YACHT BRITANNIA, exclusively reserved for us for this spectacular evening followed by an after dinner speech by the former royal Commodore and the beating of the retreat watched from the deck  with incredible pyrotechnics – an amazing evening
The Gastronomic  banquet was  created by Britannia's Executive Chef with accompanying fine wines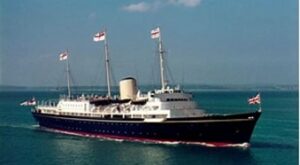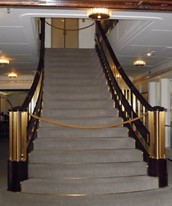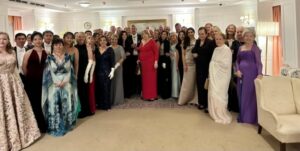 30th August
Private cocktail party – Harrods
We enjoyed an Exclusive champagne and canape evening with guest speaker in the luxurious  private VIP suites formerly the private suites of Mohammed al Fayed, former owner of Harrods -these are not accessed by the public. Our thanks to our Harrods Patron, Mrs Camilla Cherrington and Bulgari, Harrods, debutante jewellers for Queen Charlotte's Ball
31st August
The Winston Churchill War Rooms.
A nostalgic and amazing evening in this incredible museum
We experienced a  fascinating tour of Winston Churchill's strategic centre of operations, continue with  a Pol Roger champagne reception, followed by a gourmet banquet with accompanying fine wines. The musical accompaniment was the romantic and emotional songs sung throughout the second world war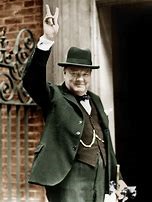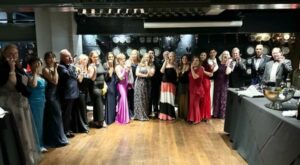 1st September
The Berkeley Dress Show champagne tea party and  debutante fashion show,
The glamorous and historic British landmark Café Royal and the  customary tradition for ladies to wear hats.
Steeped in history ever-so-glamorous, the Hotel Café Royal was simply put, a London legend
It was  here  that the Duke of Windsor courted and canoodled with Wallis Simpson; Aubrey Beardsley debated with Whistler; David Bowie retired Ziggy Stardust (and quite a merrymaking gala that was, dubbed by its host as "The Last Supper"); and Mick Jagger, the Beatles, and Elizabeth Taylor pirouetted 'til the wee hours. History is infused in these walls, and if only they could talk.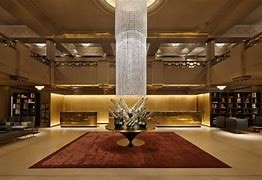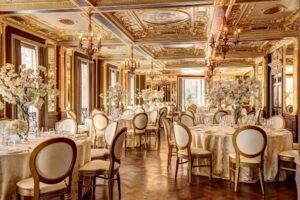 2nd September
Queen Charlotte's Ball, One Whitehall Place, part of the former Palace of Whitehall with its famous antiquarian library and stunning white marble staircase and glittering chandeliers
One Whitehall Place captures one with its intrigue! The building features elegant Victorian-inspired architecture with its distinctive and mesmerising suspended circular marble staircase, the largest of its kind in Europe without pillar support. It was originally built as the home of the National Liberal Club, founded by Prime Minister William Gladstone. More interestingly, in 1911, Sir Mansfield Cumming, the first Chief of MI6, relocated Her Majesty's Secret Intelligence Service to the 8th floor! A bond-esque system of sliding doors and bookcases were installed to keep Cumming's location top secret. It comes as no surprise that this beautiful building has featured in several iconic movies over the years including the James Bond 1983 film, Octopussy.